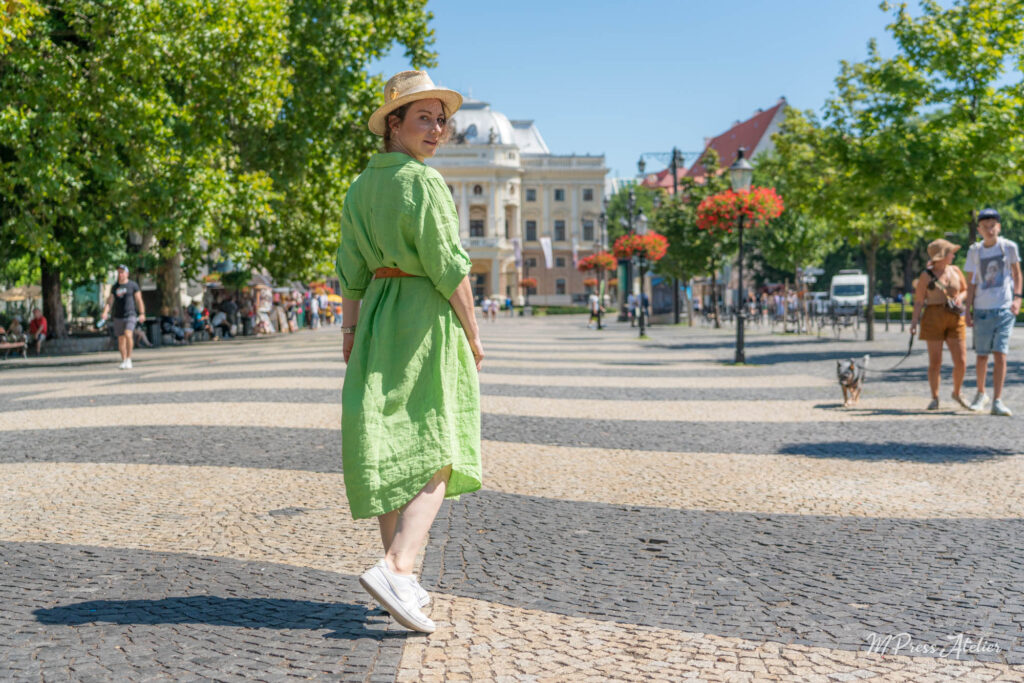 One sweltering heat wave in Europe, we decided to try a city we've never been in before. Packing the car full of my fresh summer linens and just finished hats, we drove into the city ready to be surprised. This was not a planned trip, and instead we invited ourselves into a city deliberately without direction. This means that once we got our hotel in a busy central location, we let fate be our guide. For example, when we hear music and commotion, it usually has led us to a market or street performance. Given that most large European cities are older than cars, walk-ability was something that could not be avoided when city-planning. This means, fortunately for the tourist, that you can "follow your nose" as you walk and the city will unfold in front of you.
Bratislava is a city on a hill with a view of Vienna across the river Danube in Austria. It gets the sunset. Upon entering, we were pleased to discover that the center is quite accessible with public transportation, plenty of parking, and lots of delicious food and cafes dotting your walk. Did I mention walking? Because this city is such a pleasure to walk through, and we didn't see our car until the minute we were packing to go.
On the last photo you will notice my favorite feature of the city; the sky-lounge restaurant and club. You can see it from the moment you enter Bratislava, and it is very useful to navigate since you can see it from practically everywhere.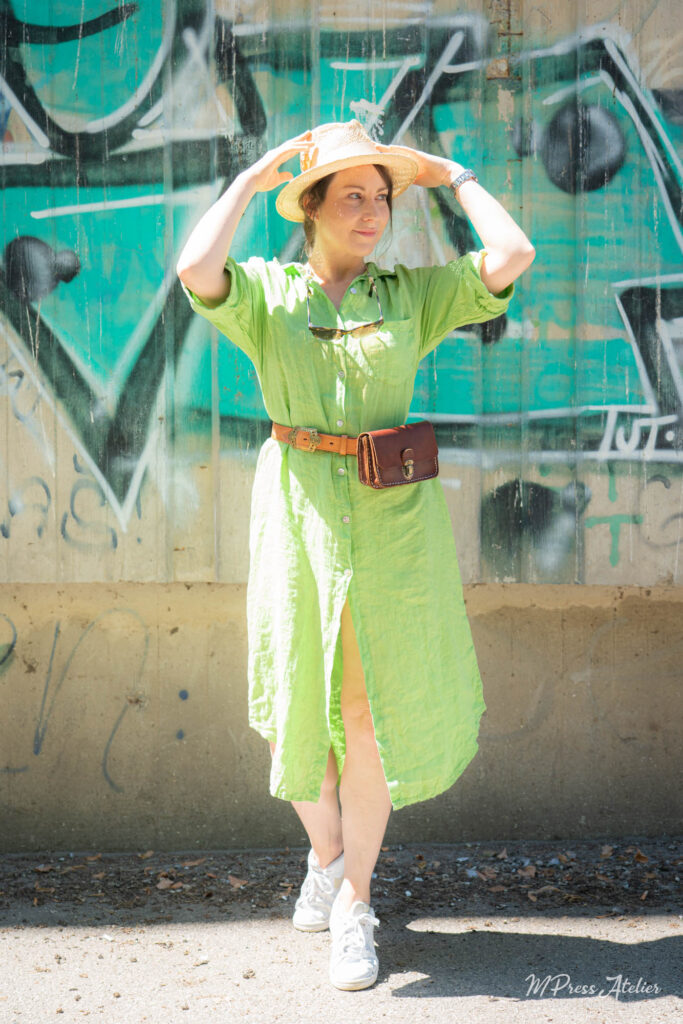 The weather forecast delivered a full day of bright hot sun with barely any wind and no clouds. Normally, I would wear something airy and small, but because of the intense light, I chose something that would cover me, a linen dress.
You might spy a new addition to my outfit in these photos… well, we wandered into a large shopping area where we discovered a beautiful decorated stand with the most fantastic out of this world fashion accessories. What's more, is that the helpful clerk was excited about all my questions, so she called the designer and she came over! We talked about harnesses, fashion, shopping, and inspiration. This time, she wasn't expecting someone so petite, and I was only able to get one harness. However, I'm due back soon for the next season's line!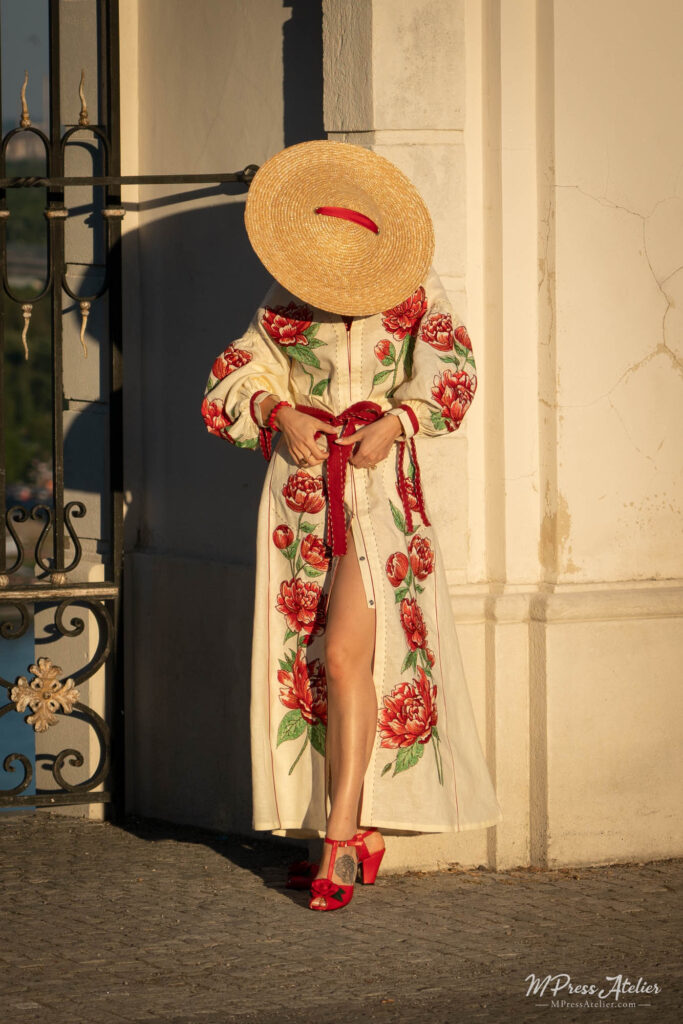 While exploring the beautiful open-to-the-public castle on top of the cliffs in the center of the city, we happened upon a stunning photo shoot! This is what I love, the designs on the dress come from a deep heritage and have been incorporated into this modern style with such a fresh and sexy look. The model was absolutely loving it, and the sunshine made the embroidery glow against the cream fabric. Absolutely delightful.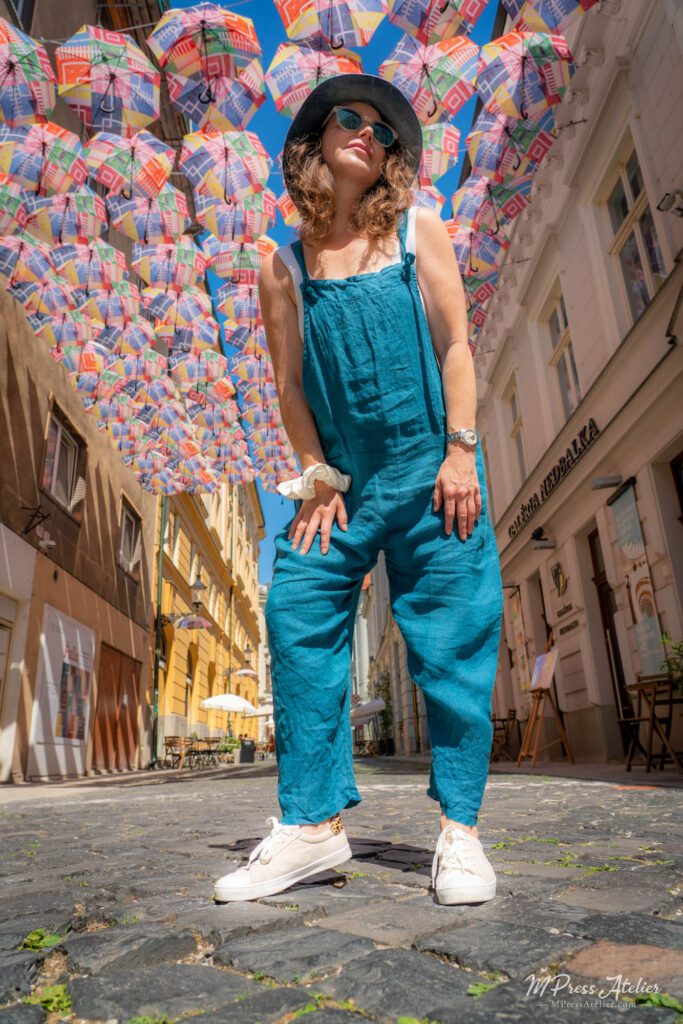 My next outfit was something I loved as a kid, a pair of overalls! I am in love with the colors of these linens that I picked up in Poland and could not wait for an opportunity to use them. The blasting heat was perfect, and I kept cool as a cucumber as cool air wafted through the large openings.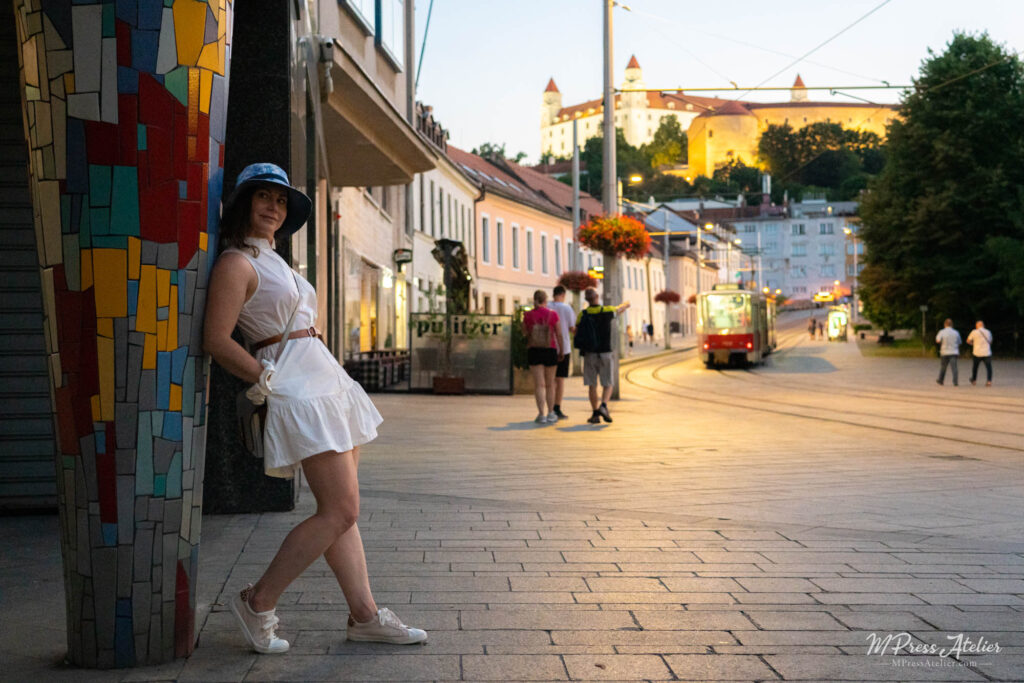 Finally, in the evening we got our customary regional dinner. We look for traditional fare made with local ingredients, ideally by an old grandmother. For this occasion, I wore a white dress with a brand new had I made for the occasion. It is a beautiful porcelain engraving blue on white on top, with a denim band from a genuine vintage pair of Levi's, and the underside finished in the denim as well. It kept me cool all day, and matched perfectly.
We had such a wonderful time, and I was deeply inspired with the fashion we saw on the street, in the stores, and all around. If you're visiting, bring a water bottle and a comfortable pair of shoes – and room in your bags for clothes both old and new. Thanks for coming and see you next time!