To recap: Nightmare scenario – I tried a new mask a couple weeks ago and my entire face broke out! I thought it was stress or the changing of the seasons; however, I noticed that when I switched masks, the acne went away. As a result, I jumped into the #MASKSPERIMENT to find out which fabrics caused skin irritation issues…
see the first article here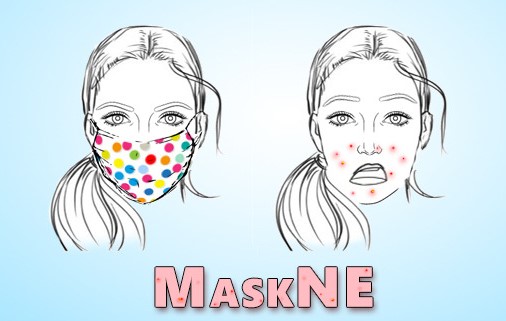 The dreaded Mask-ne I developed when I started this #Maskperiment finally healed and I got busy. As a mask designer, I am constantly creating and testing mask materials and styles; wearing new masks for a week at a time and sometimes longer. As a graduate of design school, I am also aware that different fabrics can cause tons of skin conditions including allergic reactions, chafing, and what the internet has come to refer to as "Mask-ne" (acne). This dreaded "mask-ne" got me good!  After ruling out environmental and circumstantial factors, I found myself asking a question; what is the best fabric to keep my skin clear?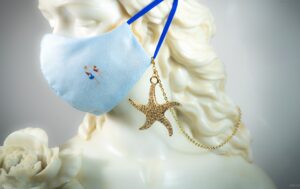 3-Layer Woven Cotton Mask
First, I should mention that cotton is the preferred material to produce hand made masks. It has antibacterial properties, can be printed with practically any pattern and holds color well, and is very readily available anywhere all the time. To add, there's tons of studies that recommend and praise the properties, and honestly if you've worn a cotton tee like 99.9% of the world, you're very familiar with the comfort properties of this magical material.
After 1 week of wearing a 3 layer cotton mask, I am happy to report no acne here! I found the mask to be very comfortable, especially in the cold during this snowy, winter season. No matter the weather, or if I was entering a hot and humid store from the dry bitter cold outdoors, the mask did NOT become soiled or wet. It also feels (and is!) very durable and maintains its shape. Due to this structural property, I feel that the mask makes constant contact with my chin and nose, and otherwise only gently brushes other areas of my face under the mask. As you can imagine, that means that my skin is not glued to a moist layer of fabric that prevents oils, dead skin, and other grime from clogging my pores. Therefore, I'm relieved to learn that 100% cotton work really well for my skin which happens to be very vulnerable to acne!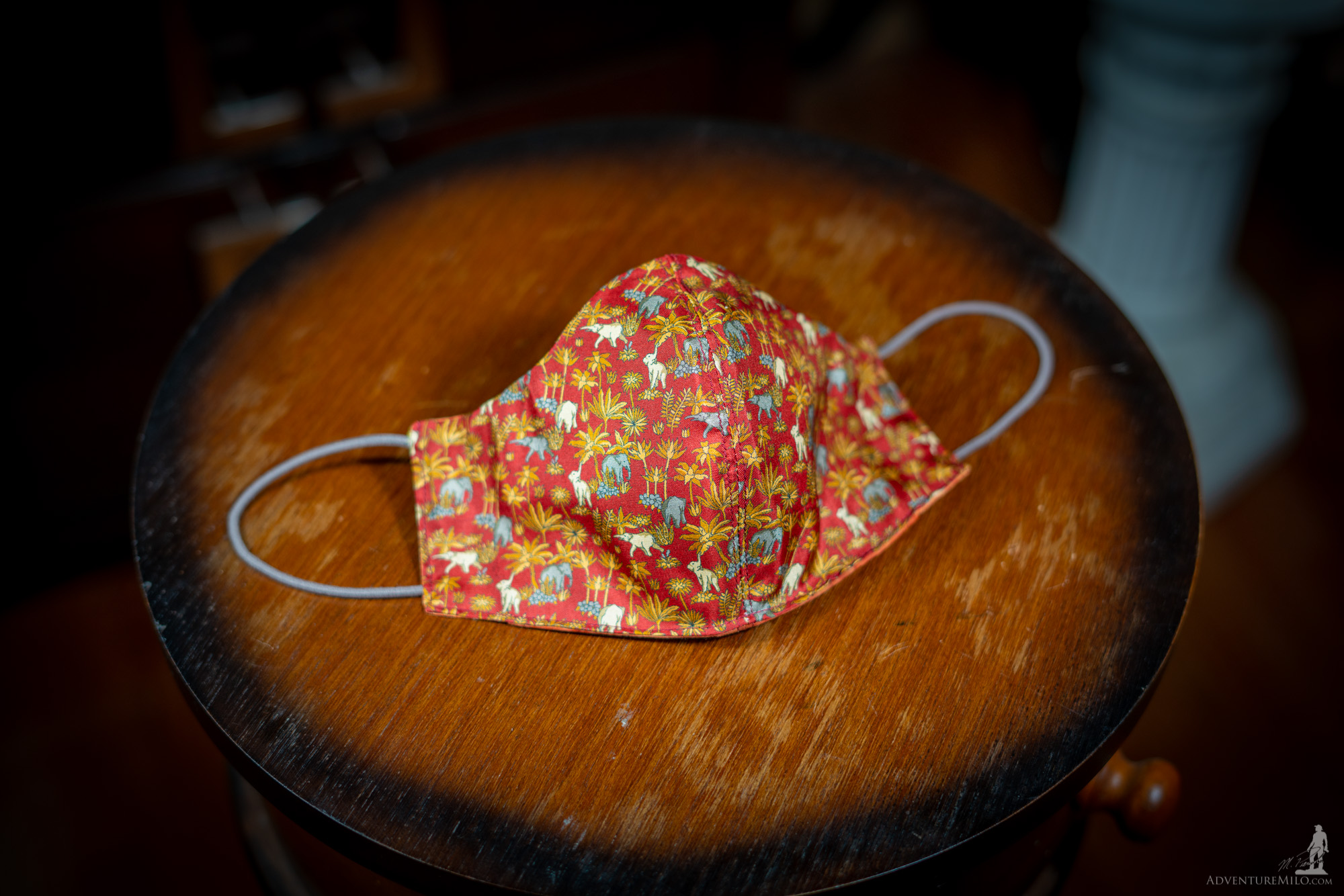 2-Layer Silk Mask
More and more peer reviewed scientific studies are coming out about the incredible protective benefits of silk fabric. But the buzz about silk's beauty benefits sometimes eclipses it, particularly for preventing the dreaded maskne! It has a cornucopia of natural antimicrobial and hypoallergenic properties that are the foundation of this claim, but there isn't any science to back this up, yet.  
There's no denying silk masks are beautiful. Wearing them felt like I was dressing up all week, and I definitely loved the psychological pick me up. Sadly I did get a breakout on my chin. I think it was a perfect storm due to the lightweight nature of the fabric getting sucked towards my mouth when I breathed or talked, which in turn caused moisture buildup right in that sweet spot chin area, and the fabric's inability to rapidly dry. This means that fabric that is moist from my breath clings to my skin when I wear the mask and creates a "seal" over pores that can more easily be clogged as a result. I also noticed that the moist mask was uncomfortable to put on and off for short periods of time, like when running into and out of stores from the car. But, I mean, silk is beautiful.

So, it does appear that silk is not the best daily use mask, but I certainly do recommend it as a special occasion piece. In fact, after this week was over, I continued to wear a combination of cotton and silk masks – silk on a couple evenings, but mostly cotton. My face remained clear and I got the benefit of looking great with the silk masks. But, there's other reasons I would recommend cotton over silk as a daily wear item. First, if you've owned any silk pieces, you know that a single snag can destroy everything. Silk is fragile, and it breaks down rapidly. This means that even a cautious person will wear them down with responsible frequent washings. In addition, if silk rubs against anything often, it breaks down. This means that if you're not careful with replacing silk into a protective bag, chances are it will develop visible signs of wear and tear quickly as well.
What does this mean ultimately? Silk masks have their place – they are special occasion pieces that look beautiful in the right setting. When you are selecting a mask to wear all the time, consider the durability and anti-maskne properties of cotton vs. silk. And if you are looking for beautiful 2-layer silk mask designs, I cannot recommend enough that you visit 22SILK for their beautiful mulberry silk masks and accessories! They are a female owned and operated small business based just outside of New York City,
What about the luxurious feel of silk with the structure of cotton, like a Silk Cotton Hybrid? It's worth trying, right?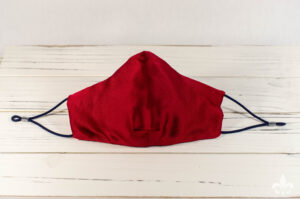 4 Layer Silk Cotton Hybrid
I went into my R&D mode and created a 4 Layer Silk Cotton Hybrid Mask. I like to think of it as a Silk Party on the outside, heavy lifting Cotton on the inside and Protection all around! It is by far my most ambitious mask! Putting it on I felt like Goldilocks and exclaimed, "it's just right"! Even with all the layers it still felt lightweight while maintaining the structure to keep the silk from sticking to my face. This is really a premium mask! 
I'm going to put it out there that I will always wear Cotton Masks because they are workhorses in the mask world: tough virus protection while still being comfortable, fashionable with infinite color & pattern options, and did not cause me to break out. That said, I love love love the luxurious look and buttery feel of a Silk Mask on my cheeks, Unfortunately I'm one of the exceptions and broke out on my chin, but did manage to avoid the problem when paired with cotton in this hybrid.
Ok, next question. How protective? Apparently very! In addition to Cotton & Silk's natural protective properties, which I cover in depth in this article, according to an American Chemical Society study, combining one layer of cotton with two layers of natural silk increases a mask's effectiveness. Not only did the hybrid masks outperform all other two-layer masks made of a single material, they were superior to N95 masks for particles smaller than 300 nanometers and only slightly inferior for larger particles!  While I will never make claims that my masks can be used as a substitute for medical grade masks, I do feel very safe wearing these new masks!
Now, the original question about Acne & Face Masks:
What Fabric Is Best For Your Skin?
For me, the results are pretty clear and, as a bonus, it seems I've stumbled onto a new mask concept: Cotton is the best, Silk alone is best for special occasions, and Silk combined with Cotton is a great combination for everything in between. What does this mean for you? Well, if you are working from home and wear your mask sometimes for grocery store visits or select outside trips – all three choices are equal in effectiveness, comfort, and effects on skin. This holds true for more frequent use with the silk/cotton hybrid masks and cotton masks. However, if you're wearing your mask for a good portion of the day as well as taking it off and putting it on often, cotton will be the most comfortable and longest lasting material.
My masks are always upgrading to adhere to CDC recommendations and to the newest scientific studies as they are published. Rest assured all of my masks provide the most protective fabrics and designs, including the Double Mask effect. There is of course another production design standpoint, and specific material challenges to consider. The biggest is that I make my masks exclusively in the United States vs China where silk is produced and manufactured. Silk is an excellent material for masks, but there are a few caveats. It is exclusively produced in China through a manually labor intensive process, making it one of the most expensive materials available. Unfortunately, it also does not stand up to washing and drying as well as cotton. Repeated laundering even on medium heat causes it to break down, which means your best bet is cold water and air drying to make silk masks and other clothes last as long as possible. From a design perspective, there are significantly fewer colors and patterns available in silk, which may not bother some people who prefer solid colors (I am not one of those people!).
Thanks for joining me on this adventure, and please let me know if there's any other materials you are curious about. I'm intensely interested in how to make the most comfortable and beautiful mask designs, and a big part of it is hearing back from you. Please visit the shop to find all the masks in this article and more!