An Historical Day Full of Firsts
Powerful women in royal purple suits & the bold jewel tone colors are seen around the world. A Return to Grace, Respect, Diplomacy, and beautifully paired overcoats & masks featuring American designers.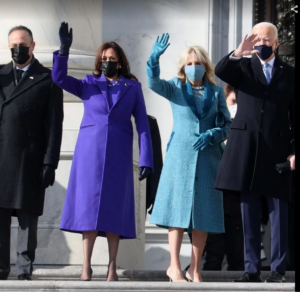 The Significance of the Color Purple
A symbol of the Suffragist Movement, "Purple is the color of loyalty, constancy to purpose, unswerving steadfastness to a cause." Although, recently the purple has become a metaphor for bipartisanship because it's literally the colors red and blue mixed together.  
Vice President Kamala Harris's Overcoat & Dress: Christopher John Rogers & Shoes: Sergio Hudson Collection. First Lady Dr. Jill Biden's Overcoat, Dress, Mask: Markarian NYC
Kamala Harris head to toe in Royal Purple making history as Vice President!
L-R: Dr. Jill Biden in Jonathan Cohen. First Lady Michelle Obama in Sergio Hudson Collection. Senator Hillary Clinton in Ralph Lauren.
Bold Jewel Tones & Whites
Before adopting purple, women of all backgrounds and classes working for voting rights wore all white and could join the movement in a visible way, simply by wearing the color. Many contemporary politicians have worn all white in recent years as a feminist statement.
White, the emblem of purity, symbolizes the quality of our purpose; and gold, the color of light and life, is as the torch that guides our purpose, pure and unswerving," reads a newsletter from the National Woman's Party in 1913.
Bold monochromatic ensembles seen on Inauguration Day are a modern manifestation of those ideas, channeling that same energy & ideology in politics today.
Clockwise L-R: Poet Laureate Amanda Gorman in Prada. First Lady Dr. Jill Biden in in Gabriela Hearst & Markarian NYC. Singer Jennifer Lopez in Chanel. Singer Lady Gaga in Schiaparelli Haute Couture by Daniel Roseberry.
Images: Getty Images